Debadatta Satpathy is a popular author writing short stories from Odisha, India. Though he has been writing stories for years now, his first book, House of Bougainvillea and other stories, was published in 2014 followed by Ghostbusters and Other Stories in 2017. His art of storytelling has been praised by several book critics in India and his books have been received very well among the readers. Debadatta Satpathy believes that short stories are the toughest part of written art and an author has to give everything to become successful in the craft of short story writing.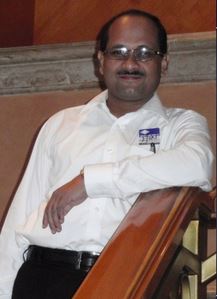 D Satpathy's vision of short stories can be well put down in his very own words. He writes in the preface to his latest collection, Ghostbusters and Other Stories:
"In my view, life is an imperfect balance sheet and so are the short stories full of elements of surprise, pathos and elation, but never conclusive; never the demonstration of the typical mathematical cause and effect relationship. The tantalising moments, the glorious uncertainties, make the life worth living and a story worth reading."
And his writings reflect the same ideology. His short stories are full of element of surprise and always working around the genuine human emotions. For example, in the final story of his latest book, the author has written about a train journey which he had from Sambalpur to Puri. Throughout the journey, he was talking with some strangers. About how they boarded the train, no one knew and how pleasantly and calmly he had attached the strings in that story is just wonderful! It requires not only a great effort on the human psychology but also a great understanding of human desires and emotions.
The major strength of Debadatta Satpathy is his art of narrating the common events of life and moulding them into beautiful and enchanting short stories which keep the readers absorbed.
The author believes that a storyteller should not only entertain the readers but also offer them the moments of pondering and some moments of introspection too. He has been doing the same. An admirer of Jhumpa Lahiri in the contemporary Indian writing in English, he is also a great admirer of Odiya short story writer Manoj Das. Debdatta wishes to continue his journey as a short story writer who can offer the readers quality short stories with as much genuine emotion as he could. He is working on another book at present.
In his personal life, Debadatta Satpathy is a professional with more than twenty years of industry experience and he is working at Rourkela Steel Plant, Odisha. With degrees in Engineering and Management, he has work experience in the administrative as well as production fields.