Tags: #AmericanPoets
Wally Swist is one of the fewer poets alive today who are writing about nature so vividly in their poems. Born in 1953, Wally has been producing poetry for long now. Presently, he resides in Massachusetts, USA. Wally has published many books, poetry books and chapbooks. He has written and continues to write in both the genres – poetry and prose. Wally Swist's poems have been published in many reputed magazines around the world.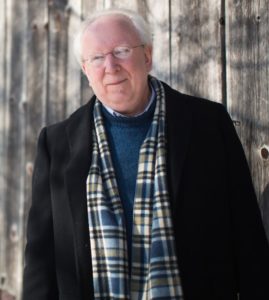 Wally is also famous among the literary personalities and the readers for his haikus. Some of his published works are of haikus as well. Among the haiku books, The Silence Between Us is very famous. Other haiku collections are The Windbreak Pine and The Mown Meadow.
The poetry of Wally Swist is modern in nature and traditional in its appeal. Some of his poems have been recently featured in Ashvamegh, an international literary magazine from India. Reading those poems will give you and ample insight into the art of Wally's poetry. He is also producing non-fiction works and very soon his literary memoir will be published. The memoir is a collection of occasional literature reviews that the poet has done.
Talking about his interest in reading and eventually, in writing, Wally Swist told Alok Mishra in an interview that he got a job in a bookstore at Yale University. And then, the interest that arose within him for the words and verse, that did never let him rest. Further, Wally believes that a poet must be objective as well as an author who wants to write serious fiction. He does not believe in much of the subjectivity to be fused in the written art.
Here is a list of the important works by the poet:
Candling the Eggs, to come
The View of the River, 2017
Huang Po and the Dimensions of Love, 2012
Luminous Dream, Cave Spring, 2010
Veils of the Divine, 2003
New Haven Poems, Hamden, 1977
Singing for Nothing from Street to Street is the forthcoming non-fiction book, a literary memoir by the poet.
Wally has made a distinguished place for himself in the world of literary personalities. He is also active as editor and guest editor for some of the literary magazines. He has also mentored the students of creative writing. You can read some of his works to know him and his art further.
More about the poet:
Interview with Wally Swist
Poems by Wally Swist
Wally's Website