Anita Krishan is a multi-faceted literary personality having so many literary productions in various of genres to her credit. Popular as a contemporary novelist among the readers and literary enthusiasts, Anita Krishan is known for her serious literary fictions based on the themes which are very relevant. Her novels Tears of Jhelum and Despite Stolen Dreams are based on the theme of terrorism and they depict the reality as well as the tragedy which remain behind the mirrors. Other creations by her like Fluffy and Me and Running Up the Hill are also praiseworthy and possess significant literary values.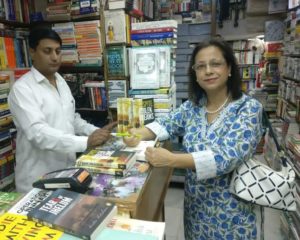 Background:
Born in 1955 in Shimla, Anita Krishan has a deep experience of the life among the and mountains. She is a postgraduate in English Literature (Himachal University) and has experience of over two decades in teaching the college students. She taught English literature to many students and helped them understand the various colours of the literary rainbow. Anita Krishan has also been associated with The Indian Economist and she offers her opinions on various issues of national and international importance. At present, she lives in Delhi-NCR with her family.
Literary Career:
Anita is not only a novelist. She is also a poet; directed plays and has written short stories as well. Her encouragement comes from the different perspectives that she has the opportunity to gather from her hobby of extensive travelling across the world. Meeting people at different places in India as well as abroad and getting to know their cultural background help Anita in understanding the vividity of human lives. When asked what inspires her to write, Anita tells:
"My beautiful memories and imagination, the trapped images that were desperate to transform into words and disperse in the world."
Anita Krishan, as an author, does not only want to contribute to the literature of India. She also wants to let the readers know what are the obvious realities that we either ignore or just forego because we don't either have the courage to face them or we just lack the conviction to correct them! When a reader reads her books, most of them are serious in nature and broad in the terms of the issues that they raise. Moreover, that's why Anita Krishan has a different level of reputation that she enjoys among the contemporary critics and readers of literary fiction.
Future Plans:
Anita has many plots in the mind and she will be coming with her books in the near future. She believes in writing with purpose and that's why her books are not simply the amusing accounts of events; rather they are widely constructed humane stories reflecting many of us in the text!
Her Books:
Buy and read the books by Anita from the Amazon India link below: