Ashish Dalal is an author who mostly writes short stories to express himself and offer his opinions on various issues which are mostly close to the human emotions and readers can easily comprehend what he wants to convey. He has been writing for many newspapers and magazines for years and finally, his debut book of short stories, Uske Hisse Ka Pyar is going to be launched in the near future.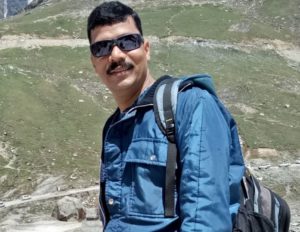 Born and raised in MP, Ashish Dalal is currently living in Gujarat and works as a manager in a reputed firm. His interest in fiction has led him to become a short story writer and he often shares his short stories through various magazines and newspapers which feature Hindi literature exclusively. Ashish's writings involve mostly in the observation of relationships, the nuances of human emotions which keep taking different turns with the passage of time and he also takes a great interest in presenting before his readers the vivid colours of love in all the possible forms. Ashish believes that between the youth and aged, there is only love which keeps a person going and it comes in various forms… his short stories often comprise the same. He writes about the love between a newly married husband and wife and also the love between a mother and her son which is gradually taking a different turn after the marriage of the boy… these are the events which are common to take place in the usual households and thus Ashish Dalal is successful in getting the attention of his readers and involving them in his stories.
His debut book Uske Hisse Ka Pyar also deals with the same issues. He has packed his collection with the short stories which directly communicates with the readers through his powerful plot construction skills and also the sensuous imagery at times which brighten the unsaid feelings which can only be felt! He writes about the moments which can only be shared by two persons who love each other deeply and also the saddening part of a relationship which deteriorates with times by different things which are going around. He writes about the problems too – problems between a couple in love, a married couple and also between a child and his or her parents and so on…
And on a broader perspective, if we see things in the recent years in light, Hindi Literature has once again vibrant with various colours of fiction. Authors like Ashish Dalal believe in involving the readers in their works and not just letting them read and go on. It has created a huge impact and thus, Hindi fiction has once again come in direct competition with the English and the readership is always assumed to go further and higher! Ashish Dalal's work Uske Hisse Ka Pyar will be available for sale on Amazon in the coming month and you can also get a pre-release copy be securing one through Amazon pre-order. We will update you once the copy is available.