Hindi novelists in the country have mostly been in the oblivion because of the grip that English fiction enjoys on the minds of the Indian fiction readers. Nevertheless, in flashes, some of the authors have been emerging on the scene and dominating the entire reading fraternity with the quality and appeal of their works. One such, we must admit, is on the rise. Palak Kundra, from Amritsar, is a novelist who has made her impressive debut with the novel Bleeding Queens. Palak's writings are mostly women-centric and she seems to be on a crusade against the crimes against women (across the ages). Her debut novel is also based on the same theme but with a rather bolder narrative and a powerful lead character in the form of Diljit, a woman of strong mentality and determination and courage.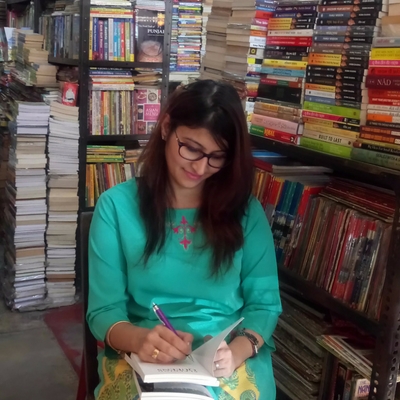 At the core of Palak Kundra's writing, we can see the presence of an unrest and this unrest fuels her characters, her dialogues and her framework. This is evident in her very first work and it has given a certain amount of strength to the novel Bleeding Queens as well. Palak's choice of the language for her novel might surprise the readers on first knowing about it. Nevertheless, once they start reading the work, all their surprises will be gone and they will surely connect with the narrative in the language of the author's choice. For the kind of themes Palak chooses for her works, Hindi is the only way to communicate with the readers!
Talking about her purpose behind entering the world of writing, Palak wishes to be a changemaker someday! She wishes to raise the voice for the female victims who have been through the worst kind of crimes – rape, harassment, domestic violence, trouble during childhood and others. She often blogs about these issues on her social media pages and many other web platforms including her official website. Moreover, she does not only wish to write about the issues and expose the problems of our society. She rather wants to come up with the possible solutions to the problems and that's why readers can find in her writings a different kind of narrative and an urge to soothe.
About her personal life, Palak Kundra, born in Amritsar, spent a big part of her early life in Delhi. A graduate in English Hons. from Delhi University, she is also fond of cooking and participating in the cooking competitions as well. A big fan of music, she likes the singer Diljit Dosanjh very much.
Her novel Bleeding Queens is out in the stores now and you can grab your copy from Amazon links below. You can go for the Kindle version as well as the paperback one.
Bleeding Queens: Kindle Edition on Amazon
Bleeding Queens: Paperback on Amazon