Indian English Fiction has immense possibilities. With the arrival of new authors almost every day, many things have changed. However, it all depends on the talent and vision of the authors – what they want to contribute? Recently, a newcomer in Indian English fiction writing has tried to change the way we perceive vices and virtues. Ravi Dabral is the author of a recently launched novel, written in Hindi and English, Greed Lust Addiction. While this novel has been recognised by the critics and book reviewers in India, it has also created the space for a new author to settle – among the authors other than romantic novelists.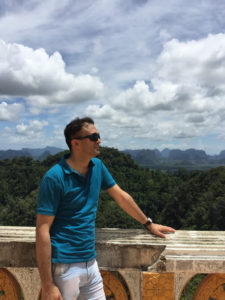 Born and raised in Uttarakhand, India, Ravi Dabral currently lives in Singapore and is a commodity trader by profession. For his contributions in various fields such as education, social services and corporates, the author has been awarded International Man of Excellence award. Educated with expertise in many domains such as politics, economics, laws and science, the author has also earned a diploma in creative writing from Open Minds International, Singapore. Other than these qualifications, Ravi Dabral's life has also been spent in researching and living with the saints and sages of his homeland – Uttarakhand. He has over 15 years of extensive research in spiritualism and the secrets of sages to spend a happy life. And this is what we see reflected in his latest novel – Greed Lust Addiction.
Before writing this novel, Ravi has already written a non-fiction book titled "Secrets of a healthy, wealthy & happy life" in which he shares his secrets that he earned by living with saints in the Himalayan and other parts of India.
Ravi Dabral's writing is on a different level. He does not write to ensure that the readers find enough spicy scenes in the novel. He rather writes to ensure that he shares his experiences for the well-being of our society. A reader can easily judge these key elements in his writings. His characters are drawn from real life and what he shows in his works are experienced by him, individually.
Ravi also feels that India's golden treasure lies deep in spiritual secrets and we need to extract them out and spread among ourselves. He brings characters like Guruji in his novel and lets him lead the way. Metaphorically, he is just writing what is the truth!
In terms of language, in Hindi as well as English, he keeps his works simple and smooth. He does not use the acerbic or a fancy lexicon. His books can be read and understood by a teenager as well as by a person who is parenting a teenager. So, it can easily be seen that the author's interest lies in reaching as many readers as he can.
You can learn more about Ravi by following him on social media or viewing his website: Ravi Dabral – official author website.
An article by Sumant for Featured Author