Anyone interested in Indian English literature must know the name of Shobha De, the famous page-3 columnist and novelist who did not pull her punches when it came to the occasion. Known as the founder of the celebrity (especially the Bollywood) magazine Stardust, Shobha De is credited with many things within the domain of her role as a novelist of the 20th and 21st centuries. Known as a fancy feminist, Shobha has mostly rallied around the roundabout of sexuality and sexual freedom for women. However, it was she who introduced to Indian English fiction the openness and frankness being exploited by the likes of Chetan Bhagat and Nitika Singh (and many others) today. More lively as a journalist and socialite, Shobha De's fiction does demand scrutiny from time to time. In this article, I will discuss a few features of her writing. Let's begin with a list with brief introductions to special features before we enter into the arguments for and against the famous novelist.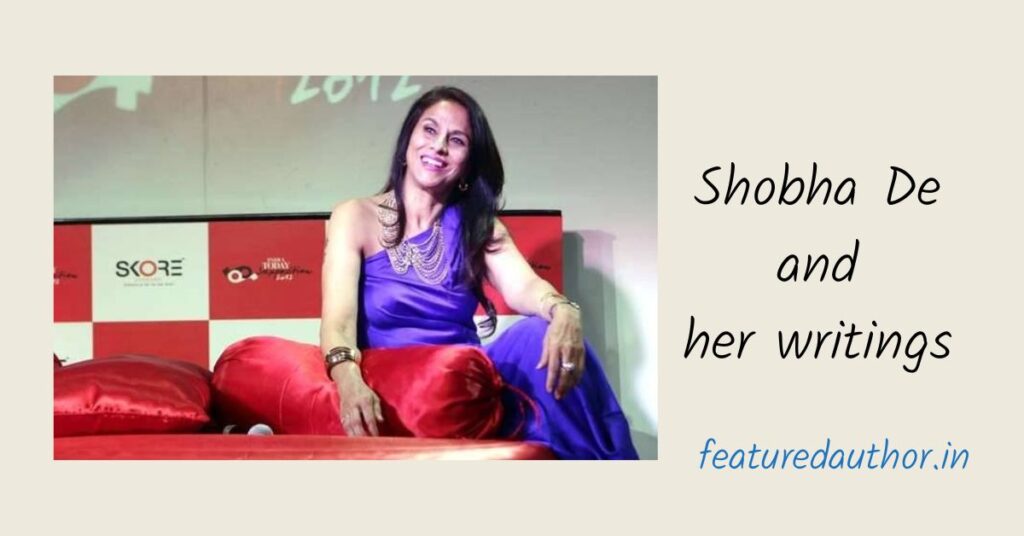 Satirical and humorous tone: Shobha De ridicules conventional social norms and beliefs in a fashion that's peculiar. It is her style. Known for her sharp wit and humour, which she often employs in her writing to comment on and satirize various aspects of society and culture, at times Shobha De might overdrive her tone and intentions. However, it does not take away the fact that she is one of the powerful voices in society who questions the conventions emphatically.
Engaging narrative style: De's writing is characterized by an engaging and fast-paced narrative style. Characters are revealed layer by layer. The storyline is revealed with a quick sequence of events, coming one after another, and this is the style that keeps readers interested and engaged. You can notice this in many novels by De.
Candid and frank portrayal of characters: Mostly coming from Bollywood, page-3, socialite and elite backgrounds, Shobha De has given some colourful and enjoyable characters to the world of Indian English fiction. De's characters are often depicted as complex and multidimensional, having qualities that may get repeated by still retaining some of the uniqueness. These characters with their flaws and vulnerabilities are drawn realistically by the novelist and many readers can easily find the resemblance in real society.
Strong social commentary: While you may agree or disagree with the social commentary that Shobha offers in her fictional works, you will agree that she is good at it. In most of her works, De often deals with issues related to gender, class, and social justice, and she is known for her bold and unapologetic approach to tackling these issues. Well, we can arguably agree that this makes her novels singular and monotonous at times. However, her capacity to indulge the readers with her fictional world is amazing. And coupled with social commentary, her works do offer something unique every time.
Descriptive language: I cannot stand the same for the quality of De's language in her novels, I will say that De's writing is also notable for its vivid and descriptive language, which helps to bring her stories and characters to life for readers. She does not go for a fancy and elevated style of fiction writing. Her approach is simple and so is her language. She tries to keep her narratives very close to the real-world audience without caring for the wishes and expectations of her critics.
Analysis:
Yes, these are some of the major features in the writings of Shobha De. She is a feminist but not of the same approach that other feminists are. In short, while many beat around the bush, she directly accepts drawing the attention of her readers towards the sexual freedom of women in a society that is believed to be dominated by men. Arguments and theses can be written by many accepting or rejecting this theory. Shobha De is often considered a feminist novelist due to the themes of gender and social justice that frequently feature in her writing. Not only her novels, but her columns also deal with issues related to the role of women in society. She is known for her bold and unapologetic approach to tackling these issues. Her approach may be arguable, a subject for debate.
In her fictional works, De often portrays strong, independent female characters who challenge traditional gender roles and expectations. Shobha De often addresses issues directly related to women (in a negative connotation most of the time). Domestic violence, gender discrimination, and reproductive rights are some of the issues you may find discussed in her works in a repetitive way. Famous and notorious for her activism and advocacy on behalf of women in society, De has been raising her voice for women's rights and gender equality. De's writing often challenges conventional gender norms and stereotypes, and she is known for her (ultra) frank and brutally honest portrayal of women's experiences and struggles. However, this trait of her fiction has also become a subject of ridicule by readers and critics. For example, in Starry Nights, her character cannot be canonised and neither can she be criticised. She does try to take sides with her protagonists but ends up making them a subject of criticism in the end. Reference – Starry Nights by Shobha De.
To conclude, these are some of the features of De's writings. You can find more by studying her novels and reading critical opinions on the same by scholars and critics in many of the books on Indian English literature. All the best!
By Alka for Featured Author