Tags: #20th Century#Hindi#Indian
Chandranath Mishra Amar is a very popular Maithili writer and also a poet. He is from Madhubani, Bihar in India. Chandranath also writes in Hindi and his poems have been very popular. He also won the Sahitya Akademi award for his contribution to Maithili literature in 1982. Chandranath Mishra also contributed to Maithili cinema immensely and his contributions made it possible for Maithili cinema to leave its mark on the mainstream cinema very effectively.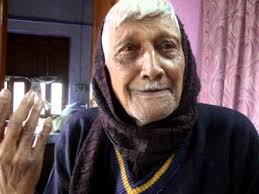 Many collections of Hindi, as well as Maithili poems by Chandranath Mishra Amar, are available for free on different archives on the internet. Readers can read his poems and also understand the kind of writing this poet used to indulge in. The poems by Chandranath Mishra Amar actively enforce the Maithili identity and also bring to the fore the Mithila culture. His songs have almost turned themselves into the folksongs in Mithilanchal and people use to sing them during various rituals and festivals.
Born in 1925 in Khojpur of Madhubani district in Bihar state, Chandranath indulged in writing from a very early age. He used to write in Maithili and then also began writing in Hindi. There are many poetry collections and prose works by him. Some of the prominent ones are:
Maithili Collections:
ठाँहि पठाँहि / चन्द्रनाथ मिश्र 'अमर' (Thanhi Pathanhi)
गुदगुदी / चन्द्रनाथ मिश्र 'अमर' (Gudgudi)
उनटा-पाल / चन्द्रनाथ मिश्र 'अमर' (Unta-Pal)
आशा-दिशा / चन्द्रनाथ मिश्र 'अमर' (Asha-Disha)
ऋतु-प्रिया / चन्द्रनाथ मिश्र 'अमर' (Ritu-Priya)
Hindi Collections:
अमर-संगीत / चन्द्रनाथ मिश्र 'अमर' (Amar-Sangit)
At present, Chandranath Mishra resides in his Madhubani house with his family. He is still active in writing and he uses to talk to the inquisitive and enthusiastic people who inquire about his writings. People around him know what immense contribution this eminent Maithili poet has made to the cultural revival of Mithilanchal and that's why they have huge respect for him. As someone from Mithilanchal himself, and also someone who is a close relative to this man, I feel proud and also satisfied writing this article!
A contributor to Featured Authors