Tags: #Indian
Vidyapati Thakur is known as one of the earliest poets from Bihar writing in Maithili. He is called Maithil Kavi Kokil with respect and his name is worldwide popular for his devotional as well as other verses. His Ganga songs are famous as well as his devotional songs written for Devi Durga are also very popular. Vidyapati is also said to have attracted the attention of Lord Shiva with his devotion and it is believed that Shiva stayed with him in human form for many years as Ugna. Vidyapati Thakur's poetry is still fresh and will remain so for long.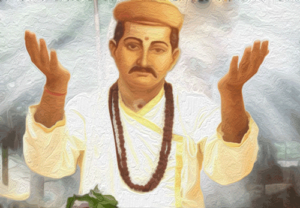 Born in 1352 in Bisfi, a village in Madhubani district in Bihar state, India, Vidyapati was the son of Ganapati Thakur. He extensively wrote devotional poetry, love poetry and also some other topics. Vidyapati has influenced the literature in many languages including Hindi, Bengali, Odia, Nepali and some others. His mastery of the language he wrote in was unmatched. Many of his poems are local folk songs today in popular Maithili culture. His poem Ganga Stuti is especially popular:
बड सुख सार पाओल तुअ तीरे .
छोड़इत निकट नयन बह नीरे .
कर जोरि बिनमओ विमल तरंगे .
पुन दरसन होए पुनमति गंगे .
एक अपराध छेमव मोर जानी .
परसल माय पाय तुअ पानी .
कि करब जप तप जोग धेआने
जनम कृतारथ एकहि सनाने .
भनइ विद्यापति समदओं तोंही .
अंत काल जनु बिसरह मोही .
This poem would translate into English as:
My pleasure knows no bounds on the banks, O Ganga
tears come out as I leave, bidding adieu, to you.
With folded hands, I pray to see
the incessant waves once again
but you need to forgive me
for one mistake I made
to touch the water with my feet, o mother!
I need no penance and no meditation
for I saw you and my life is complete
and you should not forget me
Ganga!
With Vidyapati, many legends are also attached. He is said to be the greatest poet devotee of Ganga and Ganga, who is considered the mother of everyone in popular Indian culture, has come to see her son Vidyapati when he was going for his last 'darshan'. Vidyapati died in Samastipur in 1448.